Telmed/practice model flexhelp24
Double cover
Either. Or. And always right: with flexhelp24, you are guaranteed to receive the best medical care without the long wait. With this basic insurance model, you decide whether to have a Medgate telephone/video consultation first (via the Medgate app or on +41 844 654 654) or to consult a doctor straight away at a partner practice. flexhelp24 is very straightforward and you save on premiums:
Brief overview of the flexhelp24 telmed/practice model
Advantages:
You get a discount on your premiums. Find out more about the premium discount here >
You always get to choose between visiting the practice in person and a telephone/video consultation.
With Medgate, you will benefit from 24/7 telemedical advice and treatment minus the waiting rooms, by phone or video using the Medgate app. All telemedical benefits will be free of charge for you: Sympany covers all costs, with no cost contribution whatsoever.
In a partner group practice (which you do not have to register with us in advance), there will be multiple doctors there to help you – sometimes even with different specialist fields.
Disadvantages:
You don't get a free choice of doctor and will have to abide by the rules of the telmed/practice model. You will need a referral for the majority of specialist medical practices.
Many medical practices are not taking on new patients (suspended admissions). Before opting for the telmed/practice model, you should make sure that there is a partner practice near you that will accept you.
With flexhelp24, I decide as and when: if things need to happen quickly, I call Medgate when I'm ill. Otherwise I'll go to a partner practice. It always works out!

Gerard Magnin, 24, salesperson
Useful links about the telmed/practice model
How the flexhelp24 telmed/practice model works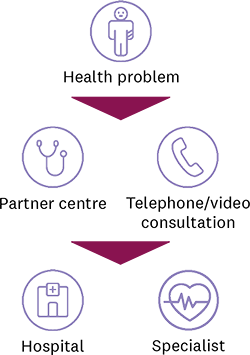 If you have any health complaints, contact a partner practice or have a Medgate telephone/video consultation first.
Your contact coordinates your treatment and, if necessary, refers you to your family doctor, a specialist or the hospital. You can visit an ophthalmologist, gynaecologist, paediatrician or emergency department directly – no need for a referral. (But: emergency treatment must be reported to Medgate within five days.)
In the telmed/practice model, you pay between 13.5 and 16% less in premiums than for a model with a free choice of doctor. *
Telemedical advice and treatment – over the phone or via the Medgate app
Medgate's telephone/video consultations are available 24/7. Please have your customer number (9 digits) ready. You will find this number on your insurance card, policy or benefit statement.
Medgate telemedicine: +41 844 654 654
Sympany covers the costs for telemedical treatment and advice for all flexhelp24 policyholders. Calls to Medgate telemedicine will be billed at your usual rate.
What does it mean if I choose the flexhelp24 telmed/practice model as my basic insurance?
What do you like more? A Medgate partner centre, telephone consultations with Medgate or the Medgate app? With flexhelp24, the choice is yours. You will find all the important information on this page and in the flexhelp24 product leaflet.
If you fall ill, always contact a Medgate partner practice or have a Medgate telephone/video consultation first. You can have a telemedicine consultation around the clock, even when you're out and about – via the app or by calling +41 844 654 654. If necessary, you will be referred to a specialist or hospital. Three key advantages of flexhelp24: you always have a contact person, even in an emergency. And you benefit from carefully coordinated treatment and a premium discount.
Find your nearest partner practice online quickly and easily. At Medgate's partner practices, you receive comprehensive medical care and benefit from various specialists and therapists all under one roof. Find out more about Medgate >
With flexhelp24, you're not tied to a specific Medgate partner practice. You can simply choose one of the available partner practices for new treatment.
You can register by phone or via the Medgate app. You can arrange an appointment with reception as usual by phone. You can use the app to first enter your symptoms and then set an appointment for the telephone/video consultation. The Medgate app may also recommend a visit to a medical centre due to the symptoms described and allocate a corresponding time window for this.
You will be looked after by a qualified team of doctors with various specialisms. Consultations are held in German, French, Italian or English. You can specify your preferred doctors in the Medgate app. More detailed information is available from Medgate. If further examinations are necessary, you will be referred to a specialist or hospital.
After the treatment, you will receive your treatment plan by e-mail or via the Medgate app. If you use the app, you can adjust this plan at any time and thus inform Medgate about referrals or an extension of the treatment duration. If you don't use the app, simply notify Medgate of referrals or extended treatment by phone.
In this case, it's important to contact Medgate again beforehand to coordinate the intended additional referral and adjust the treatment time window.
Yes, please follow the Medgate or practice treatment plan. Someone will check whether there are any time windows or referrals available for follow-up treatment.
Sympany monitors compliance with the rules – both by law and out of fairness towards other policyholders. Anyone who disregards the rules will face financial consequences (e.g. because they need to be moved to a traditional basic insurance plan and no switch is possible for a year or because they have to cover treatment costs if they repeatedly disregard the rules).
Special cases and exceptions
Medgate's partner practices are also there for you in urgent cases. In an acute, very serious or life-threatening emergency that requires immediate treatment, go directly to an emergency doctor. Please inform Medgate after you've received emergency treatment – ideally within five days. Someone close to you may also notify Medgate.
In this case too, please contact the Medgate telephone/video consultation service or a partner practice as your first port of call.
Exception: the accident is an acute, (life-) threatening emergency, meaning immediate treatment is the priority. In this case, please contact Medgate afterwards and ideally provide them with the emergency treatment certificate that you received from the emergency care centre.
You can contact your gynaecologist directly for any treatments relating to your pregnancy.
For non-pregnancy-related medical issues, please get in touch with the Medgate telephone/video consultation service or a partner practice as usual.
Yes, there are exceptions. You can contact ophthalmologists, gynaecologists and emergency doctors directly. And paediatricians for children under 16 years old can also be chosen freely.
If it's the same illness every time, ask for a longer time window for treatment. This means you don't have to contact Medgate before every visit to the doctor. Please note that as soon as the specified time window expires, you must contact Medgate again.
No, Medgate only needs to be informed when a treatment window is inadequate and needs to be extended for a particular treatment that has already been reported or when a new treatment that hasn't yet been agreed with Medgate becomes necessary.
No, you do not need to report prescribed therapies. However, consultations at the medical practice that prescribed the therapy must be coordinated with Medgate.
You can get your medication from a partner practice, provided they offer it there.
If you wish to get your medication from another practice, please inform Medgate in advance to allow the Medgate doctors to coordinate your treatment.
If you experience technical problems with the app or have any questions, Medgate's customer services team will be happy to help and advise you (+41 61 377 88 28).
Medgate can also be reached by telephone around the clock for your medical concerns:
Request a second opinion – from somebody at the same partner practice or from another Medgate doctor. Would you rather seek the opinion of another specialist? Then ask for a relevant referral. In the event of persistent disagreements, you can go to another available partner practice next time.
Switch insurance model
Find out what you need to know when switching to another Sympany basic insurance here: Switch insurance models. Please bear in mind that the rules of the current model remain valid until the switch, as you will still benefit from the discount of your old model until then.
A comparison of all Sympany's basic insurance policies
Your advantages at Sympany
* Examples of the premium discounts
Depending on the alternative insurance model, insured persons can have one or a number of available first points of contact (Medgate, family doctor's practice/HMO centre, pharmacy) for reporting health complaints.
Some models make it possible to coordinate treatment to a greater extent than others, which results in varying levels of cost savings. Sympany passes these cost savings on to its customers in the form of a premium discount – which is always calculated precisely for the respective model, age group, franchise and premium region.
Discount of 13.5%:
adult premium in Lucerne LU, CHF 2'500.– deductible, without accident cover, Vivao Sympany AG
Discount of 16%:
adult premium in Zurich ZH, CHF 2'500.– deductible, without accident cover, Vivao Sympany AG