Cancelling your health insurance and switching to Sympany
Switching health insurers made easy
You would like to cancel your current health insurance and switch to Sympany – welcome! With Sympany, you have all the insurance you need. Find out for yourself!
The best insurance for every life situation
Your advantages at Sympany
Notice periods for cancelling your current insurance
All health insurers are subject to the statutory notice periods for basic insurance:
All basic insurance policies: Cancellation with effect from 31 December with a one-month notice period, i.e. by 30 November 2023, 17:00
Standard model (free choice of doctor and a franchise of CHF 300): Also cancellation with effect from 30 June with a three-month notice period, i.e. by 29 March 2024, 17:00
Please note: you can only switch your health insurance to Sympany if all premium and benefit statements relating to your current basic insurance have been settled by 31 December. For legal reasons, we cannot provide cover if a previous basic insurance is cancelled before settling all of the corresponding invoices.
Unless you have taken out a multiple-year policy, you can cancel your supplementary insurance policies with effect from 31 December of the respective year. Supplementary insurance can usually be cancelled with a notice period of three months. Next cancellation deadline: Cancellation with effect from 31 December 2023 with a three-month notice period, i.e. by 29 September 2023, 17:00
If your premium changes, a shorter notice period of one month will apply until 17:00 on 30 November 2023 – so you'll have more time to cancel your supplementary insurance.
Tip: You can find all of the information about your supplementary insurance in the General Terms and Conditions of Insurance (AVB VVG) for your current insurance policy.

Important: Please wait for Sympany to confirm your acceptance in writing. Please do not cancel your current supplementary insurance until you receive confirmation that you have been accepted unconditionally by Sympany. This will ensure that all your needs are covered. Find out more about switching supplementary insurance here >
Attention: The postmark date does NOT apply to cancellations. As a rule, cancellation of your insurance with your current provider can be registered as having arrived by 17:00 on a working day (Monday to Friday).
How can I cancel my insurance and switch to Sympany?
Sympany will be happy to take care of cancelling your current insurance policy. Simply send us the signed cancellation form at E-Mail or Sympany, Peter Merian-Weg 4, 4002 Basel.
It goes without saying that we will only cancel your supplementary insurance if Sympany can accept your application unconditionally.
Every adult must cancel the contract themselves – and in such a way that the insurer can clearly identify them. We therefore ask that you always state your full name and customer number, and take into account the other requirements for your preferred method of cancellation:
By post: Send the signed cancellation letter to your current insurer (preferably by registered post).
Via e-mail: Ask your current insurer for the correct e-mail address for cancellations.
Send your cancellation instruction from the e-mail address stored in your insurer's system.
Tip: Ask for confirmation from your current insurer if you do not receive an automatic confirmation of receipt by e-mail.
Via customer portal: If your current insurer's app or customer portal offers an in-built messaging function, you can use this to cancel your policy. Important: This option is often only possible for the head of the family and for minors on a family policy. In many cases, other adults on a family policy must cancel the contract themselves, either by e-mail or post.
Other options (if your current health insurer offers them): SMS or chat
Sympany policyholders are happy policyholders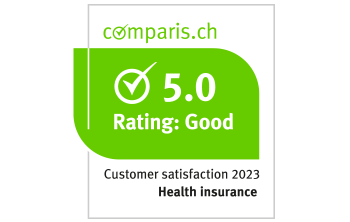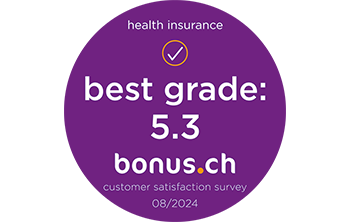 You may also be interested in