Family doctor model casamed family doctor
When your doctor is a part of the family
For your family or you: casamed family doctor, Sympany's family doctor model. Your family doctor knows you and your family. They often know what treatment you need straight away. casamed family doctor is really simple and you save a lot on premiums.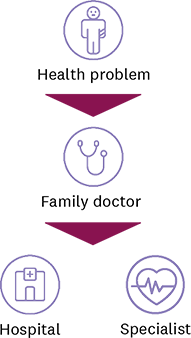 If you have any health complaints, your chosen family doctor practice is always your first point of contact.
Your family doctor coordinates your treatment and, if necessary, refers you to a specialist or the hospital. You can visit an ophthalmologist, gynaecologist, paediatrician or emergency department directly – no need for a referral. (But: medical emergencies must subsequently be reported to your chosen HMO centre/family doctor practice.)
You pay between 6 and 12% less in premiums than for a model with a free choice of doctor.*
Beatrice Longoni, 48, housewife and mother of three teenagers
Our family has known our family doctor on personal terms for a long time. He knows all our minor and major aches and pains and we like him very much. That's why changing to casamed family doctor wasn't just beneficial for us, it simply made sense.
Has your desired practice suspended admissions? If so, please let us know. Many thanks for your support!
What does it mean if I choose casamed family doctor as my basic insurance?
With casamed family doctor, you have a point of contact for all health questions: your family doctor. How does it work in practice? The casamed family doctor product leaflet summarises all the important details. We answer the most frequently asked questions here.
With casamed family doctor, you undertake to contact your family doctor first whenever you receive a new treatment. This approach enables well-coordinated and therefore cost-conscious treatment. Sympany rewards this with a premium discount.
You specify your preferred family doctor practice when you take out the policy. Either on paper or online. You can also change your existing family doctor. You can find all the available family doctors in our family doctor search. This will show you whether your current practice is also there. All casamed family doctor policyholders can also access the eedoctors virtual family doctor practice.
eedoctors is the medical centre on your smartphone. Using the video app, you can be treated by the eedoctors team of doctors from 8 a.m. to 9 p.m. every day – from anywhere and without having to make an appointment. If necessary, you will receive a prescription, a medical certificate or a referral. Find out more about eedoctors >
Yes, that's not a problem. It's important for you to inform your practice so that it's aware of all your treatments in advance and can coordinate any further treatments that may be required.
Yes, please follow your treatment plan. Someone will check whether there are any referrals for follow-up treatment.
Sympany monitors compliance with the rules – both by law and out of fairness towards other policyholders. Anyone who disregards the rules will face financial consequences (e.g. because they need to be moved to a traditional basic insurance plan and no switch is possible for a year or because they have to cover treatment costs if they repeatedly disregard the rules).
Special cases and exceptions
Your practice is also there for you if you experience urgent problems and need emergency treatment. In an acute, very serious or life-threatening emergency, immediate treatment is the priority. If you were unable to contact your practice for this reason, please do so as soon as possible after the emergency situation, ideally by presenting the emergency treatment certificate that you received from the emergency doctor.
In this case too, please contact your family doctor's practice as your first port of call.
Exception: the accident is an acute, (life-) threatening emergency, meaning immediate treatment is the priority. In this case, please inform your practice/centre afterwards and ideally provide them with the emergency treatment certificate that you received from the emergency care centre.
You can contact your gynaecologist directly for any treatments relating to your pregnancy.
For non-pregnancy-related medical issues, please get in touch with your family doctor practice as usual.
Yes, there are exceptions. You can contact ophthalmologists, gynaecologists and emergency doctors directly. And paediatricians for children under 16 years old can also be chosen freely.
If longer treatment is on the horizon, ask your practice for a longer-term referral. It's useful to keep your practice up to date on unplanned follow-up treatments so that your treatments are coordinated in the best possible way.
No. As long there is a referral for follow-up treatment, no additional notification is required for these kinds of services. You therefore don't have to notify anyone about laboratory analyses.
Please inform your HMO centre of this in advance, to allow them to coordinate your treatment.
With casamed family doctor, the choice is yours: the representative from your family doctor practice will be happy to help – as will the eedoctors medical team. You can reach them easily via your smartphone and the eedoctors app – even at weekends. If neither is possible, please inform your family doctor practice afterwards.
The app is particularly valuable when you're abroad – it means you'll always have your Swiss family doctor practice at your fingertips. Whether at home or abroad, if you have any problems or questions, contact the eedoctors support team via the app. And, of course, Sympany's Customer Services team is also available to help on +41 58 262 42 00. If the app malfunctions, please contact your family doctor practice and discuss your current treatment with them.
Ask your family doctor to refer you to a specialist for a second opinion. In the event of persistent dissatisfaction, it may be advisable to change your family doctor. Important: following through with referrals by the family doctor practice is always mandatory.
Switch family doctor practice or insurance model
You can find a new centre using our online search. You can switch at any time from the beginning of the following month. Don't forget to inform us of your chosen practice here in advance. Find out whether the centre is accepting new patients.
Find out what you need to know when switching to another Sympany basic insurance here: Switch insurance models. Please bear in mind that the rules of the current model remain valid until the switch, as you will still benefit from the discount of your old model until then.
Your advantages at Sympany
* Examples of the premium discounts
Discount of 6%:
adult premium in Altdorf UR, CHF 2'500.– deductible, without accident cover, Kolping Krankenkasse AG
Discount of 12%:
adult premium in Brig VS, CHF 2'500.– deductible, without accident cover, Vivao Sympany AG
Depending on the alternative insurance model, insured persons can have one or a number of available first points of contact (Medgate, family doctor's practice/HMO centre, pharmacy) for reporting health complaints.
Some models make it possible to coordinate treatment to a greater extent than others, which results in varying levels of cost savings. Sympany passes these cost savings on to its customers in the form of a premium discount – which is always calculated precisely for the respective model, age group, franchise and premium region.