How do costs translate into premiums?
The premiums in compulsory basic health insurance reflect the costs of healthcare. So, the more sharply the costs of medical treatments rise in a given year, the more premiums will rise in the following year.
Health insurance companies are not allowed to make any profit on basic health insurance, the premiums have to cover the costs. This is why health insurance companies cannot set the premium amounts themselves. Instead, premiums are approved by the FOPH.
In basic health insurance premiums, around 95 rappen in every CHF 1 paid is spent on benefit costs. Only around 5 rappen is used to cover the administrative costs on behalf of the insurance company. This pays not only for advertising and marketing, but in particular the administration required for processing the invoices submitted by customers, amending policies and, more recently, complying with the many new government regulations. The number of government healthcare regulations has significantly increased in the last few years, meaning the amount of administration for health insurance companies has also increased. However, administrative costs only amount to around 5% of premiums.
Premiums and benefits in compulsory basic health insurance
The amount health insurance providers pay out for medical benefits more than doubled between 1996 and 2021, increasing from CHF 1,491 to CHF 3,627. The same can be said for the amount policyholders spend on premiums (1996: CHF 1,539 per person; 2021: CHF 3,788 per person), as they need to cover the benefit costs incurred and therefore reflect healthcare costs.
Surpluses are added to the earmarked compulsory basic health insurance retained earnings reserve. They ensure that the minimum reserve amount required by the FOPH is met and that unexpectedly high benefit costs can be covered at any time.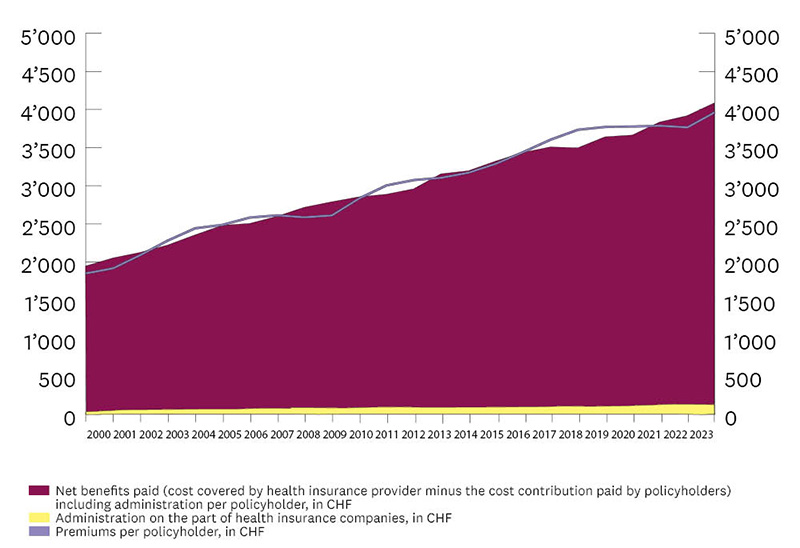 Breakdown of costs for basic compulsory health insurance
Gross benefits paid (costs borne by the health insurance company including policyholder's cost contribution) by cost group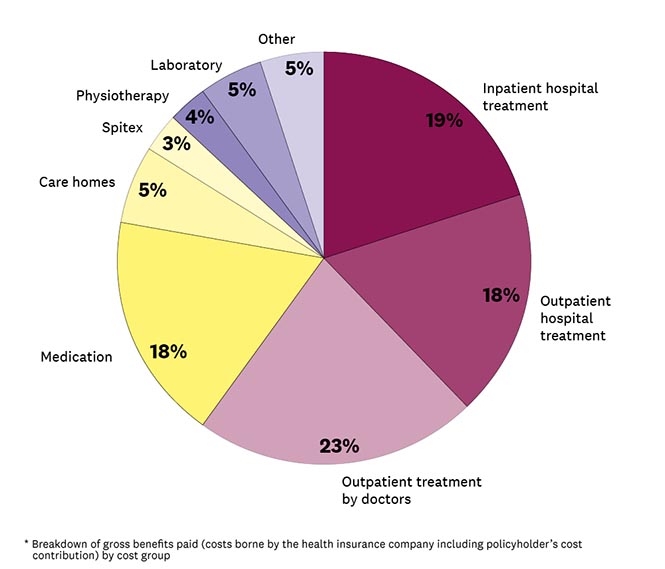 Benefit costs by number of policyholders
A small number of policyholders claim a high amount of insurance benefits
About a third of all policyholders (wine-red) do not claim any insurance benefits at all.
More than half of all policyholders (yellow) require a relatively low number of medical treatments and they generate around 34% of benefit costs (< CHF 10,000).
Due to serious medical conditions which involve long courses of treatment, just 8% of policyholders (violet) generate 66% of the total benefit costs (> CHF 10,000).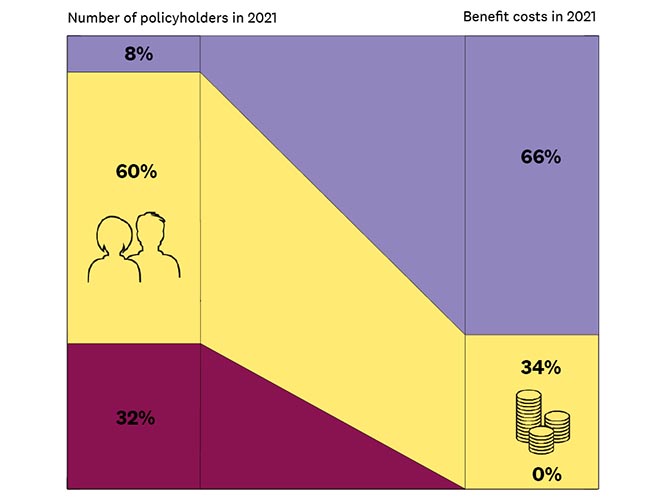 Sources of financing for healthcare costs year by year
In CHF million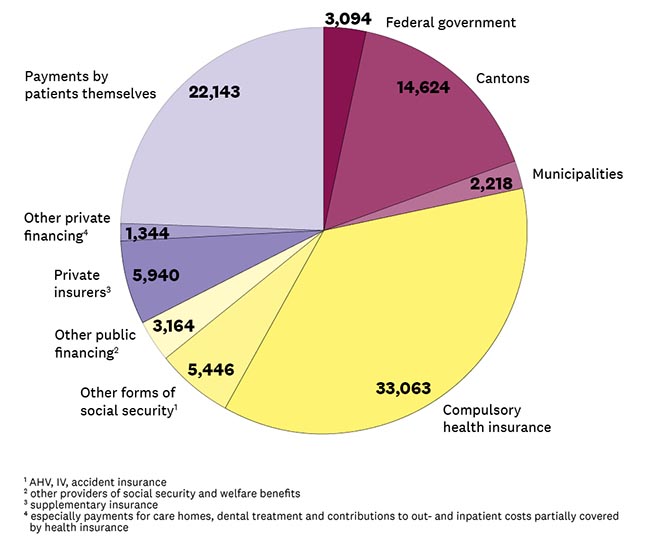 Do you have any questions? Contact us!
Or use the contact form