What can we do about rising premiums?
For an increasing number of people in Switzerland, the ongoing rises in health insurance premiums are more than just a source of frustration – they are becoming a real problem. Many policyholders are now struggling or unable to pay their premiums. This turn of events is a cause for concern from Sympany's perspective too.
Top-quality healthcare – with a price tag to match
Needless to say, prices and premiums are only one side of the coin. The other is our healthcare system itself, which is one of the best in the world and all inhabitants of Switzerland have free and fast access to it when they fall ill. This is all well and good, but it does come at a price. In countries such as France, the UK or Italy, people with serious health problems are often left waiting months for treatment. Even in Germany, the availability of medical services is becoming ever more restricted.
Popular support for many proposals to freeze costs
There are, however, potential ways to slam the brakes on rising costs. A number of these proposals have since garnered popular support among the Swiss electorate – including radical reforms that would involve introducing restrictions. This has been confirmed in a survey by Sotomo (in German), which was carried out on behalf of Santésuisse.
For example, the proposal to make it mandatory to prescribe cheaper generic medications instead of brand-name drugs found broad-based support. A majority of participants also supported restricting the granting of approvals by service providers if there is already an oversupply. Policyholders themselves also demonstrated a willingness to accept restrictions by committing themselves to using a first point of contact for medical attention, such as in the family doctor model. A majority of participants also supported better coordination between cantons, including on premium reductions and state-of-the-art medicine.
Results of the Sotomo survey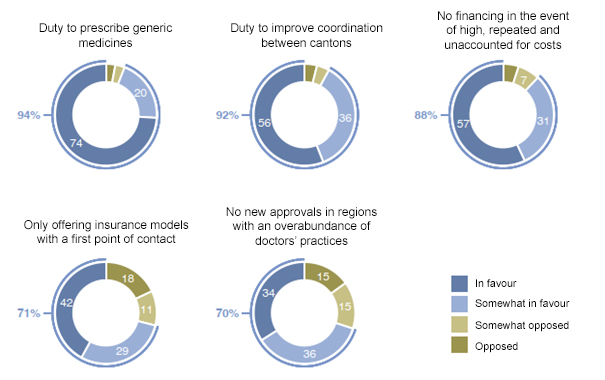 Contributing factors to rising costs
Inflation
Higher hospital staffing costs, more expensive medical examination devices and sharply increased costs due to COVID-19 are three examples of the effects of inflation.
High density of service providers
Not only is Switzerland's healthcare system outstanding in terms of quality, there are also some regions that have a very high density of hospitals, doctors and therapists. Unfortunately, a wide range of providers automatically leads to higher costs.
Expanding the benefits list
An increasing number of treatments are becoming available on basic insurance because this is what politicians and the Federal Office of Public Health (FOPH) want. This legally obliges health insurance companies to take on these additional costs, which must in turn be covered by higher premiums.
The outlook for the future
Realistically speaking, there are more price rises to come, as we are continuing to receive more benefits and have longer life expectancies. For this reason, we have to ask ourselves how we will be able to finance our healthcare system in the future. The proposals drawn from the Somoto survey present a good approach. At the same time, there are currently a variety of efforts under way in the political sphere to find working solutions.
What about the health insurance companies?
Health insurance companies are taking a range of measures to control costs for the highly extensive benefits list covered by basic insurance policies as best they can and thereby stop premiums from going up. These include systematic invoice verification procedures, price negotiations with hospitals, discounts, digitalisation and automation.
The broadening of the benefits covered by basic insurance has also eased the burden on privately financed supplementary insurance. Sympany and other health insurers have therefore lowered premiums in supplementary insurance or reimbursed surpluses multiple times over the last few years.
Furthermore, the majority of participants in the Sotomo survey overestimate how much of their premiums is accounted for by health insurance companies' administration costs, specifically by around 22% which is around four times higher than the real figure of 5.2%.
What is Sympany doing to mitigate the premium increase?
Strict invoice verification procedures
This helps us find errors in invoicing, directly cutting costs.
Price negotiations with hospitals
We are ensuring that treatments provided are both financially viable and high-quality.
Discounts
Collaborating with partners enables us to offer our policyholders attractive savings models for basic insurance (for insured persons with residence in Switzerland) or discounts on medication obtained via mail-order pharmacies, among other benefits.
Paying money back to policyholders
Our surplus payments and voluntary reduction of reserves have helped us to mitigate premium increases over the last few years. We will continue to do this wherever possible.
Reducing administration costs
We are constantly working to increase our organisational efficiency, including by automating our processes. We are also expanding our digital services for customers on an ongoing basis. This makes simple matters such as changes of address quicker, easier and more convenient for customers to process themselves. This helps to reduce costs directly.
This might also be of interest to you